Get the most out of your benefits

NEW: HOW-TO-VIDEOS FOR GSC

Registering on Green Shield just got easier! Check out the new tutorial videos located on this site by clicking here You will learn how to register, submit claims, check your eligibility and so much more! If you have already registered with the Green Shield Member Online Services site, click on "Submit Claims" to access your profile!
On the go? Introducing GSC on the GO – a free and easy to download app for your internet-connected smartphone or tablet which allows you to: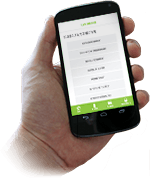 Submit claims directly from your smartphone or tablet.
Find health care providers near you.
Access drug coverage information and relevant drug authorization forms in one convenient place.
To get started, click the appropriate button below to be taken to your device's app store.
AWARD WINNER
Your Benefit Plan's recent incentive program that promotes the use of electronic claims and direct deposit claim payments is now complete. Your fellow Boilermaker,
Ryan Schmidt,
signed up for the Member Services site, and direct deposit during the campaign, making him eligible for a draw. His name was selected and he was awarded a Cabela Gift Card!
Congratulations Ryan!
All members are encouraged to sign up to use the Member Services site. If you need help registering and using the site please see our video tutorials by clicking
here
.